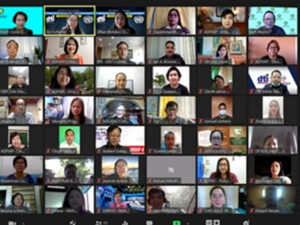 ADFIAP, through its service unit, the ADFIAP Consulting (AC) Group, conducted a webinar on micro, small and medium enterprises (MSMEs) for the United Nations Industrial Development Organization (UNIDO) Country Office Philippines on January 22, 2021.
The online event themed, "MSMEs: Negosyanteng Pinoy Makabagong Superhero sa Gitna ng Pandemya" (translated as "MSMEs: New Heroes in the Midst of the Pandemic") was organized in support of MSMEs in their recovery and resilience journey. It is the fourth of a series of webinars that took off from a survey conducted by UNIDO at the height of the pandemic lockdown, the results of which were made public in July last year. The 4-part webinar consisted of topics on industrial health and safety in the workplace; diversification, competitiveness and market access; support for women-led, youth-led and newly-established enterprises.
For this webinar, AC discussed MSME financing, a main enabler towards the recovery journey as MSMEs needed to replenish and build up their cash flows before they can embark on any recovery activity. AC invited seven distinguished finance resource persons who shared their views, experiences and recommendations on how all stakeholders, specifically banks and MSMEs can create a culture of sustainable SME finance taking into account the opportunities that abound as well as the various attendant risks that have to be managed.
The 3-hour session started with the welcome remarks from the Director of the Bureau of Small and Medium Enterprise Development (BSMED), Mr. Jerry Clavesillas. Then Mr. Teddy Monroy, National Programme Officer of UNIDO Country Office Philippines explained the groundwork around this assessment and also the strategic directions that UNIDO together with the UN system and with support of the UN Global Compact Network in the Philippines on their COVID-19 response to support MSMEs in their recovery journey.
There were three sessions in the first part of this webinar. Each session discussed specific issues pertaining to MSME access to finance which were addressed by the panellists. After the three sessions, the participants delved further into the same issues, but this time ideas were generated from the audience through the breakout sessions. The breakout sessions were managed by a team of facilitators from AC, namely, Victor Abainza and Carmen Cintura for Group 1; Arlene Orencia and Cecile Ibarra for Group 2; and Bert Reyno and Cristy Aquino for Group 3. The panellists in sessions 1 to 3 were assigned as resource persons in the three breakout session groups.
The webinar was capped by a presentation by the main speaker, the Chief Operating Officer (COO) of Bangko Kabayan, Inc., Mr. Dindo Ofrecio, who shared the bank's business model employing MSME best practices to facilitate and ease lending to MSMEs.
The webinar was moderated by Ms Cora D. Conde, AC Group Head and Atty. Bert Reyno, AC Managing Principal. For more information on this event, please email [email protected].