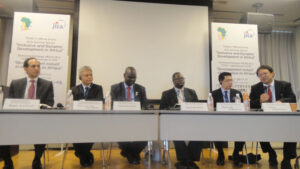 ADFIAP, on the invitation and support of the Japan International Cooperation Agency (JICA) participated in one of the official TICAD V seminars entitled, "Towards Institutional and Human Capacity Building of Development Financing Institutions (DFIs) in African Countries based on Experiences in Japan and Asian Countries". ADFIAP Chairman, Datuk Wan Azhar Wan Ahmad and ADFIAP Secretary General Octavio B. Peralta, were among the panellists of the seminar held at the JICA centre in Yokohama, Japan on June 3, 2013 and attended by over 50 participants, mostly from African and Asian countries.
The event was aimed at highlighting the role of DFIs, specifically in financing infrastructure as well as small and medium enterprises, and how African and Asian DFIs, through their respective associations and networks, may be able to enhance their resource and capacity partnerships, including working with the private sector, in improving sustainable development efforts in both continents. The program was organized in two reinforcing sessions. The first session was devoted to presentations by JICA, the Association of African Development Finance Institutions (AADFI), the Development Bank of Southern Africa (DBSA), the Japan Bankers Association (JBA) and the Japan Consulting Institute (JCI) on the infrastructure needs of Africa and role of DFIs and private sector banks in this regard. The second session featured panel discussions among JICA, TICAD, the DFI sector (AADFI and ADFIAP) as well as the Japanese banking sector (represented by JBA and Sumitomo Mitsui Banking Corporation -SMBC) on the human and institutional capacity building needs of African DFIs through an exchange of experiences in Japan, African and Asian countries.
TICAD https://www.ticad.net/index.html stands for "Tokyo International Conference on African Development" which has become a major global framework for Asia and Africa to collaborate in promoting Africa's development. The first Tokyo Conference was held in 1993 and ushered in a continuing process of support for Africa and consensus-building around African development priorities. That process was bolstered with a second Tokyo conference in 1998 and is now being held every five (5) years. TICAD has now become a summit meeting on African development co-organized by the Government of Japan, UN, World Bank, UNDP and the African Union.
JICA https://www.jica.go.jp/english/index.html is Japan's official development body that provides comprehensive assistance to developing countries and other areas across the world.