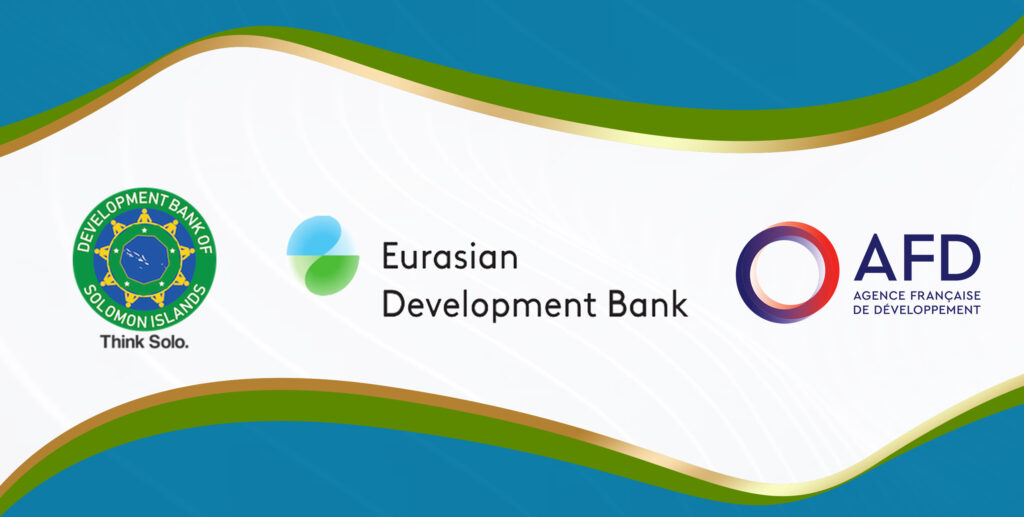 The ADFIAP Board of Directors in its 92nd Meeting on October 27, 2021, via zoom has welcomed 3 new member DFIs namely, The Development Bank of Solomon Islands, The Eurasian Development Bank, and French Development Authority (AFD).
The Development Bank of Solomon Islands was established as a development finance institution after the Agriculture and Industrial Loans Board Ordinance of 1955 was repealed by the former Legislative Assembly in 1977. After the ethnic tension phase in mid-2004 and following the end of 2003's Australian-led Regional Assistance Mission to the Solomon Islands (RAMSI), the DBSI was declared insolvent due to institutional and governance flaws, but was resurrected in 2014, when the then-DCC government announced its aim to resurrect the development bank to support SMEs and other rural microfinance programmes.
Following this re-establishment, DBSI now operates under three key building blocks one of which is not to repeat the bank's past mistakes and, in 2015 a cabinet sub-committee was established to oversee and ensure DBSI's revival and operations. In 2018, the DBSI was reestablished under the Development Bank of Solomon Islands Act 2018 and now has better governance measures in place, including more independence from political intervention in its operations.
Eurasian Development Bank (the "EDB" or the "Bank") is an international financial institution whose mission is to foster economic growth for its member states, strengthen trade and economic relations between them, and assist Eurasia's integration through investment.
In 2009, the Republic of Armenia and the Republic of Tajikistan joined the Bank as full members, followed by the Republic of Belarus in 2010 and the Republic of Kyrgyzstan in 2011. It is recognized as an international financial development agency specializing in regional integration, which is the EDB's most significant success in recent years.
Agence Française de Développement (AFD) is a financial institution whose governance is based on a set of structures that ensure the organization's functioning is transparent and well-managed. The European Central Bank gave it this status on June 30, 2017 as it used to be classified as a credit institution under French legislation.
The EPIC (Public Industrial and Commercial Undertaking) status of AFD under French law is unaffected by this transformation and its mandate and aims remain unchanged. The Agence Française de Développement (AFD) supports, funds, and accelerates transitions to a more equitable and sustainable society. Its teams work on more than 4,000 projects in France's overseas departments and territories, as well as in 115 other countries, focusing on climate, biodiversity, peace, education, urban development, health, and governance and contribute to France's and the French people's commitment to sustainable development goals.