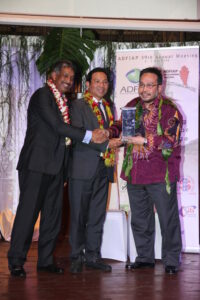 For his many years of leadership and management experience in transforming distressed companies and corporations leading them to successfully meet their objectives and for growing SME Development Bank Berhad's (SME Bank) operations and human capital development, Datuk Mohd Radzif bin Mohd Yunus, has been chosen as this year's ADFIAP CEO-of –the-Year awardee.
Datuk Radzif was appointed as Managing Director of SME Bank on July 1, 2010. At SME Bank, his main area of focus is harnessing team commitment which has played a vital role in the success of the Bank. He launched the "Brand Internalization (BRAIN)" project as part of the Bank's strategic plan to initiate work culture transformation. Beside this, he also put in place an efficient structure to ensure better governance which plays an important element in the success of the Bank.
Known as 'Mr. Transformer' in the media for his ability in transforming distressed companies, his 'magical touch' has left a positive impact in the Bank's achievement. The 5-Year Transformation Plan (2010-2015) initiated under the helmed of Datuk Radzif aims to streamline SME Bank's business and operations. Within five years, the Bank has grown tremendously. Among other initiatives under the transformation plan include the changing of the previous IT systems to the current one to improve the Bank's service delivery, efficiency and data accuracy.
In 2012, the Bank introduced its first SUKUK amounting RM3 billion allowing the Bank to revamp its business and at the same time empower the SMEs ecosystem and provide additional funds to assist more SMEs. A major accomplishment under the 5-Year Transformation Plan was the decision to change the Bank's conventional banking to Islamic principle – based operations under the Project Wisdom. The Bank officially announced its conversion to the Islamic principle-based operation on June 18, 2015.
Another significant move to ensure the staff of the Bank was ready for the transition, SME Bank through its subsidiary, CEDAR (Centre for Entrepreneur Research and Development Sdn. Bhd.) together with Islamic Banking & Finance Institute Malaysia (IBFIM), developed and conducted the Chartered Islamic Development Banker (ChIDB) programme. First of its kind in the industry, ChIDB is aimed at producing well-trained, highly competent personnel and executives with the required skills in the Islamic finance industry. The Bank has successfully certified 489 personnel for ChIDB.
At the industry level, Datuk Radzif is Chairman of ADFIM (Association of Development Finance Institutions of Malaysia) and the Vice Chairman of ADFIMI (Association of National Development Finance Institutions in Member Countries of the Islamic Development Bank). He was also a member of Board of Advisor for Franchise Association, National Entrepreneurship Council of Higher Education (NECHE) and Intellectual Capital Development Committee (ICDC) of Malaysia Innovation Agency (AIM). Datuk Radzif was bestowed the Malaysian Business Leadership Award for Healthcare in 2009.
Congratulations, Datuk Radzif!