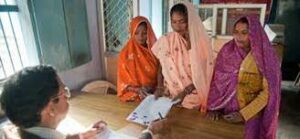 Providing financial services to the poorest of the poor will help them uplift their standard of living and become part of an economic growth. The Small Industries Development Bank of India (SIDBI) is implementing the 'Poorest State Inclusive Growth (PSIG)' programme funded by the U.K.'s Department for International Development (DFID).
The programme aims to enhance the income and employment opportunities of poor women and men in 8 low-income States by enabling them to participate and benefit from wider economic growth in India. The purpose of the programme is to improve income and reduce vulnerability of poor people and small producers by expanding their access to finance and markets.
There are 2 components of the programme. Component 1 – Financial inclusion and women's empowerment (duration of 6 years) shall improve access for poor men and women to a variety of financial services in the 4 low-income states (Bihar, Orissa, Madhya Pradesh and Uttar Pradesh ) and will: (a) facilitate financial services institutions, including banks and microfinance institutions (MFIs) to provide services for poor people in geographical areas to which they would not otherwise go by providing patient capital, guarantees or technical assistance, as appropriate (b) supplement microfinance programmes with training for women to improve their knowledge and confidence in financial services (c) facilitate studies, set up high level think tanks and feed into improving the policy environment for microfinance and improving overall business environment in the low-income states and (d) fund commercially sustainable approaches that demonstrate responsible client practices and complement Government of India programmes.
Component 2 – Impact investments: The programme funds will be spent on promoting businesses that increase the income of, or services to, the poor in 8 low-income Indian states (Bihar, Orissa, Madhya Pradesh, Uttar Pradesh, Chhattisgarh, Jharkhand, Rajasthan and West Bengal). The programme funds will provide capital or guarantees to businesses which have the potential to benefit poor people but which do not attract private capital even though they are judged to be financially viable. The investments will be judged on social and environmental performance in addition to financial risk and return, and will be in the form of debt, equity, venture capital and guarantees. The programme's investments in enterprises in the 8 poorest states will result in better opportunities for the poor to benefit as producers, consumers or skill providers.
The PSIG is expected to leverage private sector financial and technical resources to reach up to 12 million direct and indirect programme participants in 4 states of UP, MP, Bihar and Odisha. The programme duration is 6 years starting from April 2012-March 2018, extendable up to 1 year to March 2019.
SIDBI's 'Poorest States Inclusive Growth Progamme' won the 2015 ADFIAP Outstanding Development Project Awards under the Financial Inclusion category.