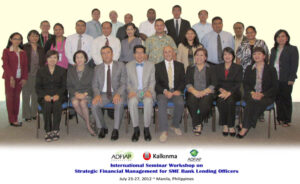 Under the memorandum of agreement between the Development Bank of Turkey (DBT) and ADFIAP Consulting (AC) to undertake joint training programs and other services to ADFIAP members, seventeen (17) loan officers of ADFIAP members from Malaysia, Palau, Samoa, Micronesia and the Philippines attended the first joint AC-DBT seminar-workshop on "Strategic Financial Management Program for SME Bank Lending Officers" held on July 23-27, 2012 in Manila, Philippines.
The course covered a broad array of topics such as principles of financial management for SMEs; understanding production and service processes and differences in financial modelling; importance of market conditions, technology and economies of scale; working capital management for SMEs; insolvency cost approach; financial analysis; budgeting for SMEs; growing strategies and effects to financial statements; and environmental risk assessment and sustainability reporting.
The program also afforded the participants to visit the Small Business Corporation (SB Corp) https://www.sbgfc.org.ph/,the country's primary government financial institution for SMEs where they were briefed on their SME lending practices, their innovative solutions to SME access to finance and SME lending under a risk-mitigated environment.
DBT senior officers, Mr. Mehmet Serdar Kabukcouglu and Dr. Faruk Cengiz Tekindag were the program's main resource persons while the AC team, Ms. Cora Conde, Ms. Arlene Orencia, Atty. Alberto Reyno, Ms. Cecille Ibara and Ms. Ma. Cristina T. Aquino as well as Mr. Enrique Florencio, Head of ADFIAP Knowledge Management, also contributed/lectured during workshop. Mr. Octavio B. Peralta, ADFIAP Secretary General, gave the welcome remarks and briefed the participants on the activities and advocacies of the Association.
ADFIAP and DBT will conduct similar joint seminars following this Manila event in other countries where ADFIAP has a member. For more information on these courses, please visit the ADFIAP website www.adfiap.org and check out the training calendar. For interest in organizing this program in your institution/country, please email inquiries@adfiap.org