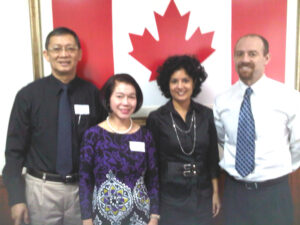 The ADFIAP Consulting (AC) Group, represented by Atty. Bert Reyno and Cora Conde, was invited to a briefing on "Corporate Social Responsibility: The Canadian Perspective" organized by the Canadian Chamber of Commerce of the Philippines. The presentor was Ms. Myrna Khan, Senior Vice President and General Manager of the Canadian Business for Social Responsibility (CBSR), a non-profit, member-led organization that mobilizes Canadian companies to make powerful business decisions that improve performance and contribute to a better world.
According to Ms. Khan, philanthropy is one part of corporate social responsibility and a lot of companies do practice it, but they are seeing now that CSR is not just about giving money away, it is actually how you make the money that you can give away. Ms. Khan also mentioned that about 30% of the top 500 countries in Canada produce CSR reports. More and more companies realize that by formalizing corporate social responsibility and by putting programs, policies and management systems in place, allow them to leverage CSR as a way of doing business.
Moving forward, Ms. Khan sees the following emerging CSR trends: (1) water is the next climate change (2) there will be a shift in the view of CSR from philanthropy to strategic community investment (3) there will be increased focus on corporate governance because of scandals and downturns (4) CSR will be implemented up and down the value chain (5) stakeholders will be more proactive and consistent in integrating CSR in the way they do business and (5) governments will be more active in CSR.
Atty. Reyno and Ms. Conde, for their part, shared with the participants information on the ADFIAP Responsible Citizenship Institute (ARC) which is the CSR and outreach unit of ADFIAP that capitalizes and builds on the many years of ADFIAP's experience, network and partnerships in the area of financing sustainable development initiatives, more specifically, in relation to environmental, governance and social issues (ESG). ARC's vision is to be an eminent advocate, capacity builder, resource provider and innovator on ESG matters as it relates to development finance. More on ARC at https://www.adfiap.org/advocacy/arc/