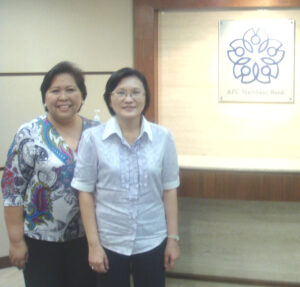 Adhering to ADFIAP's goal of strengthening ties and continuing relationship-building and networking with similar development-minded groups in the region, Ms. Cecilia M. Ibarra, Head of Advocacy and Training of ADFIAP Consulting (AC) made a courtesy visit to the Secretary General of the ASEAN Bankers Association (ABA) and President-CEO of AFC Merchant Bank, Ms. Teh-Kwok Chui Lian at the ABA Secretariat office in Singapore.
Ms. Ibarra and Ms. Teh-Kwok discussed recent developments and thrusts of their respective institutions. Ms. Ibarra presented AC's current projects and possible areas of cooperation of ADFIAP, ABA and AFC Merchant Bank regarding sharing best practices and information exchange on SME banking and green finance. Ms. Teh-Kwok, for her part, explained ABA's thrust in strengthening collaboration among its members and partners through continuing regional exchange of ideas and issues of relevance to ASEAN banking.
The ASEAN Bankers Association https://www.aseanbankers.org/home/index.htm is a regional banking organization comprising all the national banking associations in the ASEAN countries namely, Indonesia, Malaysia, Philippines, Singapore, Thailand, Brunei, Vietnam, Cambodia, Myanmar and Lao. Its objective, among others, is to promote the development of the banking and financial systems in ASEAN countries and identify growth opportunities for ASEAN banks. The AFC Merchant Bank https://www.afcmerchantbank.com/ is the brainchild of the ASEAN Bankers Association whose mission is to mobilize financial resources to finance projects and assist in the promotion of industrialization and overall economic development in the ASEAN region.