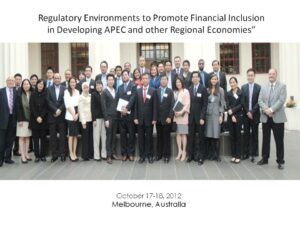 ADFIAP, the Australian APEC Study Centre at the Royal Melbourne Institute of Technology (AASC RMIT) and the Asian Development Bank Institute (ADBI), with funding support from Australian Government's Aid Agency for International Development (AUSAid), jointly organized on October 17-18, 2012 in Melbourne, Australia, a high-level APEC forum representing policy and regulatory agencies, international organisations, banks and non-bank financial institutions. The event with the theme, "Regulatory Environments to Promote Financial Inclusion in Developing APEC and other Regional Economies" was attended by 48 participants and presenters.
The forum is the first of a two-part program involving regulators and supervisors building on best regulatory practices relating to proportionate regulation identified in the work undertaken by AASC and regional economies to facilitate financial inclusion. Among other issues, the forum addressed potential tensions between regulation and financial inclusion, the incentive structure of banks, capital markets and microfinance institutions, and measures to encourage technology and innovation in the delivery of financial services to the underserved sector through major utilities and mobile phones. An analysis and a report on the forum outcomes will be prepared with recommendations on regulatory reforms to be submitted to APEC and ASEAN leaders and, at the same time, be taken forward into the second part which will be an intensive 3-day workshop to be held in the first quarter of 2013.
ADFIAP, AASC and ADBI representatives, namely, Mr. Ken Waller, Mr. Octavio B. Peralta and Ms. Ha Yan Lee, Director, Secretary General and Capacity Building Economist, respectively, were at hand to facilitate the learning and sharing process.
AASC https://www.apec.org.au/ is a leading centre in the Asia-Pacific region in terms of advocacy of APEC's objectives of promoting open trade and investment, structural reform and regional integration through training programs, supporting institutional capacity building, symposia, dialogues and publications while ADBI https://www.adbi.org/ helps build capacity, skills, and knowledge related to poverty reduction and other areas that support long-term growth and competitiveness in developing economies in the Asia-Pacific region.