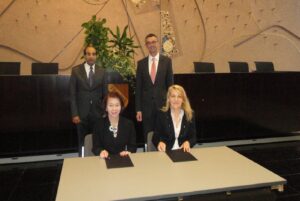 ADFIAP and its partner, Globale Umwelt-Technologien GmbH (E-Tech Germany), have signed a memorandum of cooperation on September 9, 2011 in Karlsruhe, Germany in furtherance to their initial agreement in 2009 to continue working with each other for the advancement of sustainable finance.
In particular, the agreement covers the holding of the 2nd Global Sustainable Finance Conference under the auspices of World Federation of Development Financing Institutions (WFDFI) tentatively on the 5th and 6th of July 2012 in Karlsruhe, Germany as well as implementing programs and initiatives that contribute in the smooth functioning of the Global Sustainable Finance Network (GSFN).
These initiatives are part and parcel of ADFIAP's sustainable development mission that is aimed at providing its members with the opportunity to learn international best practices on sustainable finance as well as to explore business models in the area of sustainable development. ADFIAP defines sustainable finance as one that considers funding projects and enterprises that are socially-beneficial, environmentally-responsible and economically-viable. Ms. Cora Conde and Ms. Heide Brueck representing ADFIAP and E-Tech Germany, respectively, signed the agreement.
E-Tech Germany www.etechgermany.com is mandated by both private and public sector organizations to initiate projects leading to the reduction of CO2 footprint. Together with its network partners from industry, research and development and education bodies as well with a range of experts covering different sectors of economy, E-Tech Germany works in the areas of sustainability management, green financing, education for sustainability; and in designing and implementing pilot projects that promote green technologies and ecological techniques, processes and practices.