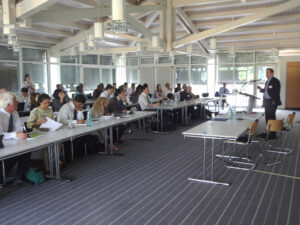 ADFIAP and the European Organization for Sustainable Development (EOSD) held another successful run of the Global Sustainable Finance Conference (GSFC) from June 12-14, 2014 in Karlsruhe, Germany. Over 70 participants from financial institutions, regulators, consulting firms and development agencies in about 25 countries around the world attended this fourth edition of the conference that started in 2011. The brief opening session featured remarks by ADFIAP Secretary General, Mr. Octavio Peralta, EOSD CEO Arshad Rab and CEO of the Karlsruhe Technology Region, Mr. Jochen Ehlgoetz.
The overall objective of the GSFC is to contribute in the sustainability transformation of the financial services industry by providing an international forum for key stakeholders from across the world to share knowledge and experiences and to work together for a strong, fair, safe and resilient financial services industry that works in harmony with the natural environment.
The conference covered a wide range of sustainable finance topics including financing renewable energy and energy efficiency projects, financing low-carbon development, financing resources through private equity and crowdfunding as well as financing small and medium enterprises, tourism and agriculture projects.
The conference was also the occasion for the presentation of the Global Sustainable Finance Awards 2014 (please see related story) recognizing outstanding achievements of financial institutions around the world in sustainable project financing, innovative financial services and business sustainability.