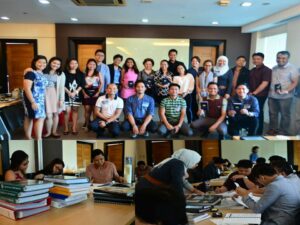 In line with its advocacy on human capital development, ADFIAP, represented by its Knowledge Management Head and Sustainability Officer, Mr. Enrique Florencio, was invited to be a member of the National Screening Committee for the "Ten Outstanding Students of the Philippines (TOSP)."
TOSP is an awards and formation program established in 19 June 1961 with the goal of calling on and affirming the youth as they fulfill the promise of being the nation's hope. Every year, the program seeks graduating college students who have excelled academically, manifested exemplary leadership, and dedicated themselves in the service of their communities throughout their college life, all founded on strong moral values of integrity, patriotism, and selfless service. TOSP was founded by the RFM Foundation, the Corporate Social Responsibility (CSR) arm of the RFM Corporation—a publicly listed food and beverage company in the Philippines.
As a member of the Committee, Mr. Florencio was asked to screen, review, and evaluate the nominations (bid books) of the national nominees under the Business and Entrepreneurship program and appropriately awarded points for their achievements and involvements according to the TOSP criteria and framework.
The National Screening Committee is composed of practitioners from the different sectors of both government and private companies as well as NGOs.