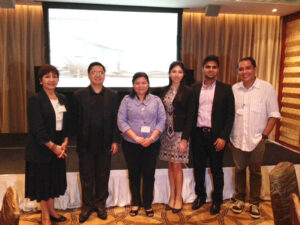 As a mainstream organization promoting sustainable development, ADFIAP was invited to the Philippine Roadshow for International Green Building Conference (IGBC)/Build Eco Expo (BEX) Asia 2014 held on July 8, 2014 at the Shangrila Hotel in Makati, Metro Manila, Philippines.
Organized by the Building and Construction Authority of Singapore (BCA), the event is the region's premier green building event that serves as a platform for international green building experts, policy makers, academics and built environment practitioners to share ideas and best practices as well as collaborate and learn with each other to achieve a shared vision of a greener planet. In addition, it was also a business platform and one-stop sourcing for cutting-edge technologies in building design and architecture for the future of greener communities.
Representing ADFIAP in the event were Mr. Enrique Florencio, Head of Knowledge Management Unit and Sustainability Officer and Ms. Sandy Lim, Membership and Event Management Consultant.