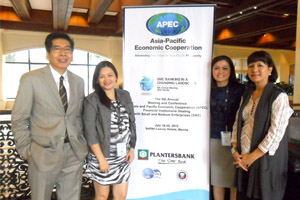 On invitation by its member Planters Development Bank (PDB), ADFIAP, represented by its Secretary General, Mr. Octavio B. Peralta and ADFIAP Consulting's Atty. Alberto Reyno, attended the conference part of the 9th Annual Meeting of the APEC Financial Institutions Dealing with Small and Medium Enterprises (SMEs) on July 20, 2012 held in Manila, Philippines.
The half-day conference, hosted by PDB, with the theme, "SME Banking in a Changing Landscape" was participated by over 40 delegates from banks in 10 APEC member-economies and was keynoted by three distinguished speakers. Hon. Cesar V. Purisima, Secretary of Finance of the Republic of the Philippines, spoke on "Moving Forward: Empowering SMEs in a Global Economy" and suggested 3 areas for consideration of the group: (a) build up of a regional SME best idea/practice database (b) strengthening the concept and practice of large companies acting as "big brothers" to SMEs that will consequently lead to (c) increasing and opening up the supply chain for SME business opportunities.
Central Bank of the Philippines' Deputy Governor, Hon. Nestor A. Espenilla, Jr. talked about "Banking and Monetary Policies in the Philippines" in the context of SME access to finance and suggested proportionate policies and regulations that will enable (a) a non-biased structural stance in support of SMEs (b) a balanced and healthy competition and (c) a robust infrastructure for SMEs such as credit information, collateral registry, payment system legal, tax and accounting systems, consumer protection and financial literacy programs. Ambassador Jesus P. Tambunting, PDB CEO and Chairman, presented the Bank's "Triple Bottom Line Banking", further enhancing PDB's support and commitment to its SME clients and boosting its current stature as the country's SME Bank.
The APEC Financial Institutions Dealing with SMEs is a network of 13 banks and financial institutions in 11 APEC member-economies that was set up in 2005 as a platform to exchange experiences and best practices in support of SMEs development and promotion.