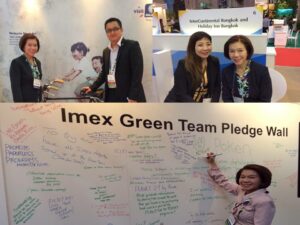 On invitation by Washington, D.C.-based association consultants, Ms. Susan Sarfati and Ms. Liz Jackson, CEO of High Performance Strategies, LLC and President of Jackson Consulting, Inc., respectively, ADFIAP participated as an invited hosted buyer and joined the Association Day meetings, networking and roundtable discussions at the IMEX Worldwide Exhibition for the MICE industry (meetings, incentives, conferences and events) held from May 19-22, 2014 at the Messe Frankfurt, Germany.
Over 300 association executives from 40 countries in Europe, North America, South America and Asia attended "Association Day" event held a day prior to the IMEX Expo. The Association Day event was full of tailored content aimed at helping association executives progress in their careers and advance their associations. This year's IMEX Association Day three-track programme (operations, meetings and executive) covered issues that are challenging many parts of the meetings industry in different ways. The programme also offered insight from ICCA on why "big data is a big issue" and how digital platforms are transforming expectations about learning, professional development and community or customer engagement. Also involved in shaping the day's programme were ASAE: The Center for Association Leadership and PCMA. Both offered association delegates sessions focusing on 'member engagement models' and the 'evolution of the annual meeting'. Five (5) one-hour interactive, expert-led sessions rounded off the day. Each focused on a current industry challenge and encouraged moderated small group discussion on: "sustainable growth and innovation"; "generating new revenues through diversification"; "activating and engaging audiences and stakeholders in a digital world"; "technology trends for valuable delegate experience and RFPs, tenders and bids – successful negotiations".
IMEX Frankfurt is a major yearly networking event bringing associations together to share best practices, introduce innovative ideas and provide encouragement and inspiration towards the attainment of their respective goals. More than 70 highly informative educational sessions and seminars were held during the event. It is also a venue for more than 3,500 professional exhibitors, coming from over 157 countries to showcase their products and services such as air travel options, conference venue facilities, destination management facilities, and training and educational services that cater to various requirements of associations. The event was attended by over 8,900 visitors, including over 3,800 qualified hosted buyers.
ADFIAP Consulting (AC) Head, Ms. Corazon Conde, who represented ADFIAP in the IMEX event, joined the Association Day discussions on the Executive Tracks ESAE Session: "Designing for Strategic Impact – Association Events that Matter" ; and ASAE Session: "Member-Engagement Models: A Glimpse into the Future". She also participated in the hot topic discussions, a one hour interactive session on "Generating New Revenues through Diversification".
Ms. Conde also held meetings with 24 exhibitors and service providers to further enhance future ADFIAP conferences, meetings and training events. She also signed up for the "Green Team" at IMEX and shared ADFIAP's advocacy on green financing on the Pledge Wall at the Sustainability Hub. The Green Team's tasks are to reduce the overall levels of waste output for the exhibition, increase use of sustainable power and promote corporate social responsibility. As Green Team member, she included in her discussions with exhibitors and service providers their sustainability plans and requested information from exhibitors on USB or to be sent electronically rather than collecting printed materials or paper brochures.
For more information on IMEX Frankfurt, please visit its website www.imex-frankfurt.com