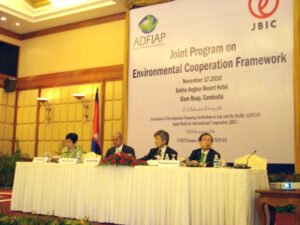 ADFIAP and the Japan Bank for International Cooperation (JBIC) held a joint program on environmental cooperation framework in Siem Reap, Cambodia on November 17, 2010 during the periphery of the CEO Forum VII (please see related story). The event has the support of the United Nations Environment Programme's Finance Initiative (UNEPFI).
The joint program, which was aimed at highlighting ADFIAP and its members' work and advocacy on financing environment projects as well as JBIC's own environmental programs, is envisioned to rally the cause for a green finance alliance among financial institutions, including DFIs, to support a global initiative to raise funding for environment and climate change-related projects around the world estimated to amount anywhere between US$ 400 to 600 billion or even more.
The joint event also featured the presentations of ADFIAP Chairman, Nihal Fonseka, on "Alliance for DFIs for Climate Change", of the Development Bank of the Philippines' Assistant Vice President, Ms. Maria Ana Visitacion Domingo, on "Climate Finance and Carbon Finance" and of the Bank for Agriculture & Agricultural Cooperatives' Executive Vice President, Mr. Kamolplant Asaves on "Agricultural Weather Index Insurance in Thailand".
JBIC's Special Advisor and Head of Environmental Finance Engineering Department, Mr. Takashi Hongo, who was the event's lead resource person and program director, discussed the role of financial institutions under the current global environment constraints as well as presented instruments that put priority on climate projects that are commercially viable and use the best technology available. He also presented JBIC's monitoring, reporting and verification (MRV) scheme to best address these issues.