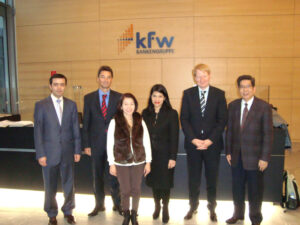 During its SMART Cebu study mission in Germany, the ADFIAP delegation of Mr. Octavio B. Peralta, Secretary General and Ms. Cora Conde, ADFIAP Consulting Group Head, met with KfW officials in Frankfurt to update each other on recent developments and thrusts of their respective institutions.
Meeting with KfW's Mr. Uwe Ohls, Ms. Barbara Schnell and Ms. Claudia Konrad, Director General, Division Chief and Principal Project Manager responsible for the Asian region, respectively, the discussion centered on the participation and contribution of KfW in the 34th ADFIAP Annual Meetings on April 20-30, 2011.
In a separate meeting with Messrs. Christoph Tiskens, Haje Schutte and Salih Vildirim, Director, Division Chief and Senior Officer, respectively, of KfWs's Corporate Strategy Investments and International Finance, the group discussed the activities and projects of the World Federation of Development Financing Institutions (WFDFI) and possible cooperation between the two institutions. ADFIAP is currently the Secretariat of the WFDFI.
KfW www.kfw.de is one of the leading and most experienced promotional banks in the world. It applies its knowledge and energy to sustainably improve economic, social and ecological living conditions and finances economic and social progress in developing and transition countries so that people may have better lives.