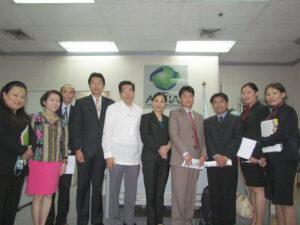 In keeping with its outreach to its broader constituency and its advocacy on financial inclusion, ADFIAP has organized a two-day study mission in the Philippines on June 14-15, 2012 for the Royal Monetary Authority (RMA) and other government ministries of Bhutan. An eight-person official delegation from Bhutan's RMA, Ministry of Finance, Ministry of Economic Affairs, and Ministry of Agriculture and Forestry participated in the mission whose objective was to enhance financial inclusion policies, regulations and structures in Bhutan.
The delegation, headed by RMA Deputy Governor Ms. Eden Dema, first visited the ADFIAP Headquarters where they were welcomed and briefed on the Association's financial inclusion initiatives and partnerships by the Secretariat officers led by ADFIAP Secretary General, Mr. Octavio B. Peralta, and ADFIAP Consulting Head, Ms. Corazon D. Conde. The study mission also afforded the Bhutanese delegation to visit and be briefed on the subject by the Bangko Sentral ng Pilipinas (BSP) (Central Bank of the Philippines), the People's Credit and Finance Corporation (PCFC), an ADFIAP member and apex microfinance institution, and CARD MRI, a group of mutually-reinforcing institutions dedicated to empowering the poor through microfinance and other related services.
For interest in similar study missions in the Philippines and elsewhere, please email the ADFIAP Secretariat at inquiries@adfiap.org.