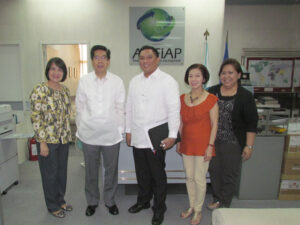 ADFIAP and Manila-based Rizal Commercial Banking Corporation (RCBC) explored cooperation activities based on synergies and advocacies in the areas of small and medium enterprise (SME) access to finance, training and capacity building as well as environmental programs in a meeting held at the Association's headquarters on June 13, 2012 between ADFIAP Consulting (AC) Group's Ms. Cora Conde, Ms. Cecile Ibarra and Ms. Cristy Aquino and Mr. Rico dela Cruz, RCBC Assistant Vice President.
RCBC's SME lending program which started in 2001 was re-launched in 2008 with the introduction of new tools and technologies for the screening and approval of SME loan applications. The RCBC Get-a-Loan web portal won a merit award during the 45th Anvil Awards for its efforts in pursuing its SME loan assistance program using technology to make the Bank more accessible to the many SMEs all over the country. To further support its SME banking initiatives, the Bank launched the "Phone-a-Loan" (877-RCBC) service which allows an entrepreneur to find out if he or his business is qualified for a business loan with a commercial bank. Another new SME business loan program is the "Women's Enterprise Loan" that gives women the opportunity to increase their financial capacity and meet the growing demands of their business.
RCBC is also doing its share to save the environment through its "RCBC AccessOne e-Statement" whose objective is to be involved in the global initiative to "Go Green"/"Save the Earth" campaign and educate RCBC account holders by encouraging them to enroll in RCBC's electronic banking channels to reduce printing of paper and cutting trees.
RCBC is among the five largest private domestic commercial banks in the Philippines. For more information on RCBC, please visit its website: www.rcbc.com