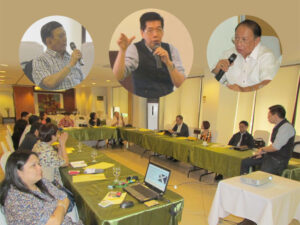 The ADFIAP Secretariat together with the ADFIAP Consulting (AC) Group and invited resource persons conducted its usual mid-year review and planning meeting on June 20, 2013 to present accomplishments versus targets during the first half of the year (H1) and to consider recent trends and developments relevant to the advancement of the Association's work and advocacy to the "next level".
The meeting focused on further improving ways and means to sustain member engagement which is key to an inclusive, involved and innovative "ADFIAP Community". Among the new initiatives that will be presented to the ADFIAP Board for approval is the setting up of Communities of Practice (CoPs) within the Association to nourish, grow and sustain the experiences and expertise of member-DFIs in the fields of SME finance, green finance, financial inclusion, governance and related sustainable development finance topics.
CoPs are groups of people/institutions that share a common passion or concern for something that they do and learn how to do it better as they interact regularly. As envisioned, the ADFIAP CoPs will be composed of interested members grouping themselves together to engage in joint activities and discussions, help one another, and share knowledge and information on a specific field. CoP members will eventually develop a shared repertoire of resources: experiences, stories, tools, ways of addressing recurring problems, in short, a shared practice. A CoP charter template and implementing guidelines are now being prepared by the Secretariat which will be the bases for the institutionalization of the Association CoPs to be disseminated to all members for comments and inputs.
Aside from the ADFIAP Secretariat and the AC led by Mr. Octavio B. Peralta and Ms. Corazon D. Conde, respectively, also in attendance during the meeting were Mr. Orlando Pena, former ADFIAP Secretary General, and Mr. Max Edralin, Jr., ADFIAP PR Consultant.