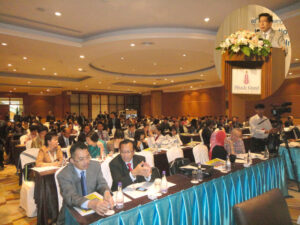 On invitation by Thailand's Valaya Alongkorn Rajabhat University under Royal Patronage (VRU), which leads a consortium of partners that organized the "International Conference on Inclusive Innovation and Innovative Management 2012" (ICIIIM 2012), ADFIAP, represented by its Secretary General, Mr. Octavio B. Peralta, spoke and shared with the 160 participants attending the event, the ADFIAP members' support programs on inclusive innovation. The conference was held on December 14-15, 2012 at the Miracle Grand Convention Hotel in Bangkok, Thailand.
The aim of ICIIIM 2012 is to promote worldwide awareness of inclusive innovation and innovative management and to serve as an incubator of new thoughts, progress, and experiences on the subject as well as to encourage university instructors, scholars, researchers to submit a paper for presentation and publication. The outcome of ICIIIM 2012 will be carried over to the envisioned ICIIIM 2013 conference.
ADFIAP joins other organizing partners that included the Governance Innovation for Sustainability Institute (GIS), the National Science Technology and Innovation Policy Office (STI), the National Innovation Agency (NIA), the Asia-Pacific Finance and Development Center (AFDC), The Association of Researchers under the Royal Patronage of the National Research Council of Thailand, Yunnan University of Finance and Economics, China, Tianjin University of Finance and Economics (TJUFE), China, Lyceum of the Philippines University, Universiti Teknologi MARA (UiTM), Malaysia, the University of Management and Economics, Cambodia.
For more information on the conference, please click this weblink: https://www.iciiim.org/index.html