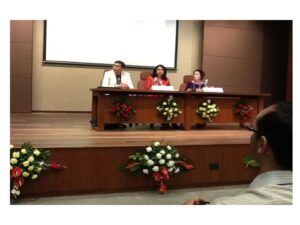 On invitation and support of the United Nations Economic and Social Commission for Asia and the Pacific (UNESCAP)and member, Entrepreneurship Development Institute of India (EDI), ADFIAP, represented by Ms. Corazon D.Conde, Head of ADFIAP Consulting (AC), participated and spoke at the "International Workshop on Entrepreneurship in Socially-Responsible Business for Development in Asia and the Pacific and the Young Leaders Programme" held in Ahmedabad, India on October 16-18, 2013.
Ms. Conde spoke on the topic "Corporate Social Responsibility: The Emerging Scenario in Asia and the Pacific Region" before an audience of businessmen, academicians, policymakers and heads of business associations from Asia and the Pacific. She also acted as Theme Lead on the topic "CSR and Ethical Business Principles" in the subsequent panel discussion participated in by young business leaders.
The event was well-attended by over 60 participants from various countries in the Asia-Pacific region. The deliberations centered on the four pillars of socially-responsible businesses, i.e., corporate social responsibility, socially-responsible environment, human rights and labor, and socially-responsible business investments and business development services.
The workshop was aimed at recognizing the emerging role of private sector, including the SMEs, in promoting socially-responsible businesses for inclusive and sustainable development in the region. The Young Business Leaders Programme envisions to ensure that these socially-responsible tenets are widely infused in young businessmen for sustainable impact. The young business leaders are deemed as the most appropriate segment to practice the principles of socially-responsible business and as effective change agents.
The forum outputs were embodied in the "Ahmedabad Declaration and Action Plan for Promoting Socially-Responsible Enrepreneurship" which the ESCAP member-countries will adopt to carry forward in their respective countries.
ADFIAP-members SIDBI and IDBI Bank of India also supported the event.