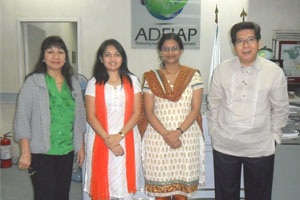 ADFIAP member Eximbank of India's Resident Representative for Asia based in Singapore, Ms. Meghana Joglekar, paid a courtesy visit to the ADFIAP Secretariat in Manila on January 6, 2011. She was accompanied by Ms. Deepali Agrawal, her predecessor. The meeting afforded each institution to exchange information and updates on their respective programs and activities.
Export-Import Bank of India is the premier export finance institution of the country, set up in 1982 under the Export-Import Bank of India Act 1981. The Government of India launched the institution with a mandate, not just to enhance exports from India, but to integrate the country's foreign trade and investment with the overall economic growth. Since its inception, Exim Bank of India has been both a catalyst and a key player in the promotion of cross border trade and investment.
Eximbank India has 7 overseas offices in Africa, Asia, Europe, North America and the Middle East.