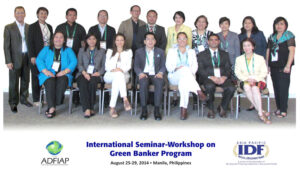 ADFIAP's Institute of Development Finance (IDF) in cooperation with the ADFIAP Consulting (AC) Group conducted the "International Seminar-Workshop on Green Banking Program" (Green Banker Programme), a certificate course, on August 25-29, 2014 in Manila, Philippines. The event was attended by 12 participants from ADFIAP members in Bhutan, Malaysia, Turkish Republic of Northern Cyprus, and the Philippines as well as from the International Finance Corporation (IFC) representative office in the Philippines.
The program's aim was to initiate a paradigm shift in the strategic lending direction of financial institutions to support green project financing using risk-based parameters, criteria and processes that guide investment and lending decisions towards climate and eco-system friendly business models. It also offered an innovative approach towards the holistic development of a new breed of bankers who will pursue the cause of sustainable economic growth through the promotion and active mainstreaming of sustainable finance in the banking sector.
Topics covered during the 5-day training course included an introduction of green finance and credit cycle; green finance loan evaluation, loan administration, remedial management; greening the DFIs; sustainability management and reporting; and pro-active management action on green finance.
The program also afforded time for the participants to visit the Global Green Power (GGP) Corporation, a company dedicated to the development and acquisition of renewable energy power plants within the South East Asian (SEA) region and which is currently focused on the development of biomass and hydropower to electricity.
The resource persons of the program were Ms. Cora Conde, AC Group Head; Atty. Alberto Reyno, AC Managing Director; Ms. Arlene Orencia, AC Head Projects and Programs; Ms. Cecille Ibarra, AC Head of Training and Advocacy; Ms. Ma. Christina Aquino, AC Head of Business Development Unit; Ms. Emy Chavez, AC Consultant; and Mr. Enrique Florencio, ADFIAP Head of Knowledge Management Unit and Sustainability Officer.
The Institute of Development Finance (IDF) https://www.adfiap.org/idf/ is the professional and career service training center of ADFIAP while the ADFIAP Consulting (AC) https://www.adfiap.org/consulting/ is the Association's vehicle in providing advisory and business development services to its members and other institutions in pursuit of sustainable growth and development.
For more details of the "Green Banker Program", please contact the ADFIAP Secretariat at email inquiries@adfiap.org .