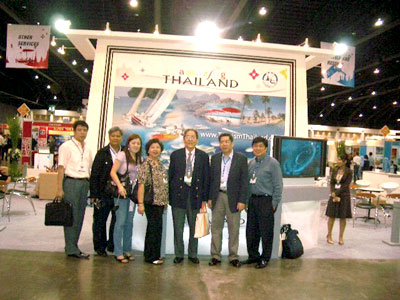 The Tourism Authority of Thailand and the Thai Tourism Industry-sponsored Thailand Travel Mart, the country's largest and most effective travel and tourism business-to-business (B2B) trade exposition and show, hosted ADFIAP, represented by its Secretary General, Mr. Octavio B. Peralta, during its TTM+ event held at the Impact Exhibition and Convention Center in Bangkok.
This year's event consisted of 300 invited buyers from key and emerging markets as well as 400 sellers from Thailand and the Mekong Region countries. The annual travel mart continues to gain recognition as an important distribution channel to present quality tourism products as well as a platform for travel traders to meet and exchange ideas on tourism trends of Thailand and beyond.
From ADFIAP's point of view, the exhibition afforded it to know more and be updated on tourism products and tourism-related issues and trends that can guide the Association in providing better services to its members. It also provides a window of opportunity for ADFIAP to invite potential members through the participating countries' tourism authorities. ADFIAP organizes training programs and conferences in different countries in the region, most of which have travel and tourism-related activities.