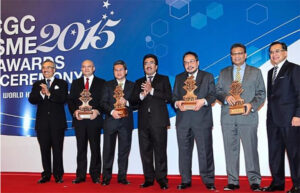 PETALING JAYA: Credit Guarantee Corp Malaysia Bhd (CGC) is targeting an RM14.5bil small and medium enterprise (SME) loan base by 2020 via its five-year strategic plan. The firm that aids SMEs in obtaining loans from commercial banks said its loan base now stood at RM9bil. Speaking to reporters after CGC's 43rd AGM and SME Awards presentation, president and chief executive officer Mohd Zamree Mohd Ishak said, among other targets it wanted to achieve under the plan include a 50% graduation rate and 80% brand awareness.
The firm's graduation rate is 47%, which accounted for 18,000 SMEs, which meant that these SMEs no longer required guaranteed loans from CGC. "Apart from other core values under the five-year plan, we have indentified six headline targets including the loan base, brand awareness, guarantee reserve ratio, graduation rate, cost-to-income ratio and return on equity," noted Mohd Zamree. CGC, which boasted a group shareholders' fund of RM2.9bil as at Dec 31, 2015, is aiming to approve 8,650 guarantees and financing this year. Last year, it approved 8,225 guarantees and financing valued at RM3.4bil. "We aim to approve RM4bil in guarantees and financing to SMEs this year, a 20% growth from last year's RM3.4bil," he said.
And as of 2014, 35.9% of SMEs contributed towards the country's gross domestic product, while the compound annual growth rate (CAGR) of SMEs over the last 10 years was 7.1% against the overall CAGR of the nation's economy of 4.9%.
On another note, he revealed that the firm was in the final stages of discussions to finance three key projects, including the MRT Line 2, the Pan-Borneo Highway and the Pengerang Integrated Petroleum Complex in Johor.
While CGC remained cautiously optimistic on the outlook this year, he said in terms of asset quality, the firm was taking a proactive approach and engaging with clients. During the SME awards ceremony, CGC recognised four leading banks and 10 clients for their notable contributions towards SMEs.
Malayan Banking Bhd, Maybank Islamic, OCBC Al-Amin Bank Bhd and SME Bank were Top F1 Partners for their contributions to CGC's overall SME financing via its guarantee schemes. Maybank Islamic bagged the Best Financial Partner and Top Bumiputera SME Supporter awards for contributing the most toward CGC's asset quality and financing to bumiputra SMEs, OCBC Al-Amin won the Top F1 Partner award for Islamic Banks, while SME Bank took home the Top F1 Partner award for development financial institutions.