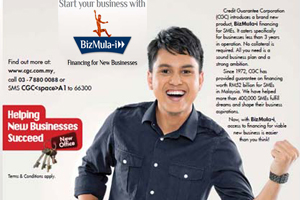 In the current environment whereby new business with lack of financial track records and collaterals, in obtaining working capital in financing their newly set-up business. Credit Guarantee Corporation Malaysia Berhad (CGC) have introduce a new scheme to help uplift the development of new businesses role in the country's economic growth.
BizMula-idirectfinancing, is a scheme whereby it provides financing to entrepreneurs viewed as high risk within the financial sector with efficient funds to start up their new business. The underlying principle is to encourage and nurture budding businessmen with reliable business plans, satisfactory business insights and a high entrepreneurship drive.
CGC's President and Chief Executive Officer, Datuk Wan Azhar Wan Ahmad said the Syariah-compliant scheme is unique because businesses will be directly financed by CGC, with financing ranging from RM50,000 to RM300,000 and repayment tenure of up to seven years.
He said it was crucial for new businesses to have the ease of access to hassle-free financing facilities as relying solely on the use of their own funds will be insufficient to sustain and strengthen their businesses.
"It is usually a challenge for new businesses with a lack of financial track records or collaterals to obtain financing for their new business. Therefore, the BizMula-i has been designed to address the current gap for this segment, which is perceived as high-risk borrower.
"The proposed initial portfolio encompasses the first tranche of RM30 million from CGC which may potentially benefit up to 600 new business," he said when launching BizMula-i.
He said BizMula-i is the first scheme in CGC's series of initiatives to ensure that the operations of new businesses become successful and there are many more programmes being formulated, adding that over the years CGC has been instrumental in providing an assortment of financing options for SMEs.