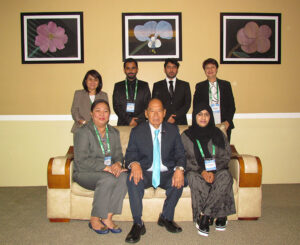 ADFIAP's Institute of Development Finance (IDF) conducted its 9th Financial and Economic Appraisal of Investment Projects (FEAIP) seminar-workshop on February 6-10, 2017 at the St. Giles Hotel in Makati City, Metro Manila, Philippines. The seminar was attended by participants from Oman and the Philippines.
The FEAIP is designed to provide participants with enhanced knowledge and skills in the appraisal of development and investment projects, the different aspects of investment designs, and how the financial and economic aspects fit into the overall investment plan submitted by the project proponent for loan purposes. The course also provides different appraisal techniques for purely private-oriented investments and development projects.
Topics discussed in the seminar were: concepts of development finance; comprehensive analysis & design of development projects; financial and economic appraisals in the design of development projects; financial and economic feasibilities requirements; financial and economic IRR; opportunity costs; time value of money, Investment multipliers; proforma financials: income statement, balance sheet, cash flow; role of banks in project designing & appraisal: review or direct participation; projects and investments: owners and investors, equity and debt; owners and financiers; different investors, different stakes; public and private point of view in project appraisal; difference of loan and project appraisal; concept of bankability; what are bankable projects?; and, mitigating investment risk thru sensitivity analysis.
Apart from classroom lectures and discussions, the seminar also afforded the participants to have a cultural tour where they were able to visit some Philippine historical places within Metro Manila.
The resource person of this program was Dr. Alberto Pena, Director of Management Development International and Associate Director of the International Studies and Programs at the Illinois State University (ISU), USA.
For more details about FEAIP and other ADFIAP training programs, please email the Secretariat at inquiries@adfiap.org or Ms. Sandra Honrado at shonrado@adfiap.org.